Kerala Mural on Canvas- Brief tutorial
Since few months,I have been learning Kerala Mural painting. Most of art lovers know about Kerala Mural painting. These are the mural paintings painted on temples. This has very particular style, the ornamentation and colorful attire in bright colors make it , visual treat to eyes.
You can read more about Kerala Mural here : https://en.wikipedia.org/wiki/Kerala_mural_painting.
I love this art and learnt it from some experts. I learnt painting Kerala mural painting on canvas, bamboo and now learning ti paint on fabric.
You can view some of my Kerala Mural paintings in this post: Kerala Murals- Paintings of Gods from Gods own country.
I strongly suggest to learn Kerala mural from experts. In my opinion, any form of art must be learnt from experts or professional teachers. Learning from experts makes us to understand , very basics to advanced techniques of any art. I respect those who learn art on their own. Learning by experts and self learning , both have advantages and disadvantages.
It is better to learn traditional paintings like Kerala Mural , Madhubani , Kalamkari etc. For the self learners and those who want to know basic of "How to paint Kerala Mural?", this tutorial might help.
Step 1: Tracing the design
I haven't learnt how to draw the figures in Kerala Mural style.  Planning to learn soon. So I had to manage  with tracing , already available painting on the canvas.
To know how to trace on Canvas, you can go through the post : Tracing with pencil.
After tracing the design , highlight the design with Vermilion acrylic color, with zero numbered brush.
Step 2: Fill the part of the design with Yellow acrylic color
The painting contains yellow and orange filled parts. Fill those parts with Yellow acrylic color, using wash method.
Step 3: Shading with Vermilion
Next step is to shade with vermilion wherever required. And fill the green and vermilion.
Step 4: Final touch- Shading the face and outlining with black:
Shade the face and body parts. Complete the painting by outlining with black acrylic color.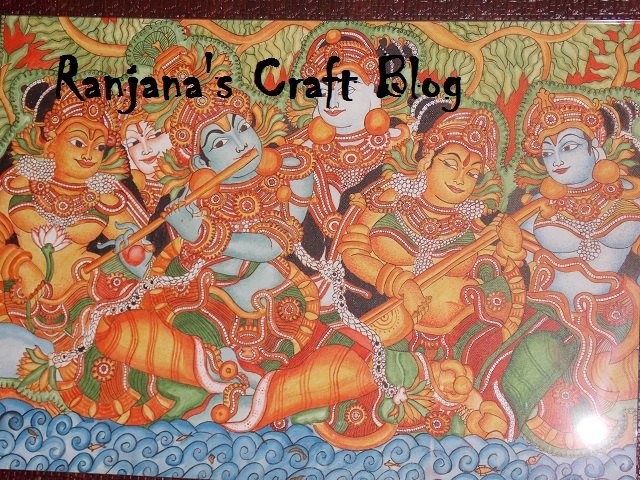 Shade the face and outline Here is the closer view:
Though it might not help you to learn painting Kerala Mural in detail.  Hope it will help you to know basics of the process. Will share tutorials of many arts and crafts in coming posts.
Love , laugh and live the life to the fullest,
-Ranjana