Collection- Miniature tea sets
Collecting some unique items is an ancient hobby. The common one is stamp collection. And some collect coins too. I have written, how I started collecting Kumkuma bharanis in one of the posts. I have collected more than 100 types of Kumkuma Bharanis(Box to keep sindhoor-used by Indian women). They are in different shapes and made out of different materials : some are in peacock design,  some in fruit design. Some Kumkuma Bharanis are very unique, with shape of book, fish etc. I have Kumkuma Bharanis made of shells, wood, stones etc. And Kumkuma Bharanis decorated with Kundans are also in the collection.
I have a collection of miniatures. Who is not fascinated by cute miniatures? My collection includes, miniatures of pots, tea pots, household items, small houses, furniture, dolls and many more. Each one is from different place, and each have a story  behind them :). Thought of sharing fond memories and picture of these cute miniatures with you!
Miniature of Tea sets
I have  tea set miniatures in six sizes, varying from millimeter to centimeters. The smallest one I have.
Though it is small, and it has all the components of tea sets-tea pot, milk and sugar pots, with a small tray. The cups are hardly few millimeters in dimension: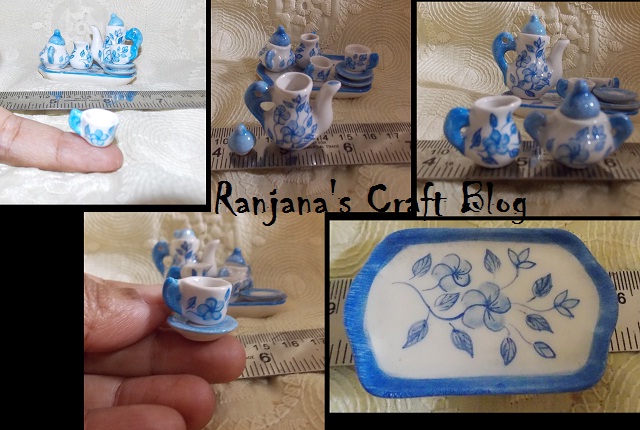 This one is in the next size.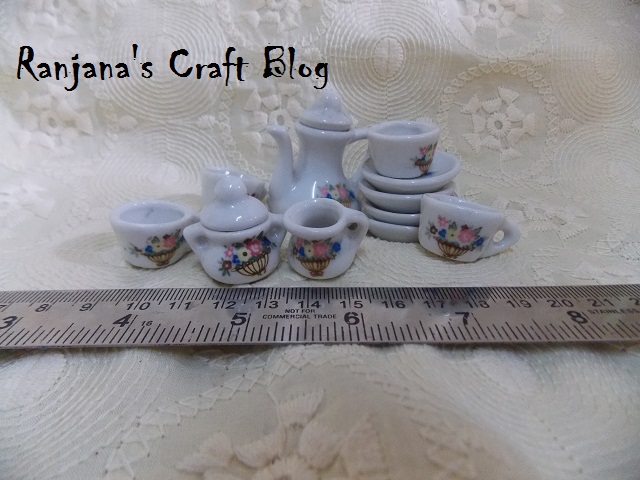 This set also has all components except a tray.
This is one is made of wood and with a small tea table:
This one is little bigger, still the cup size is in centimeters 🙂 These have cute teddy bear prints on them
One more in brown color and bigger :
This one is the biggest among all.
And , though the biggest among all the sets I have, the tea cup is still 5 centimeters in dimension 🙂
Aren't these really fascinating? Next week learning making some miniature. Will share the learning experience and the miniatures I will make.
Until then,
Love , laugh and live the life to the fullest,
-Ranjana