Design pattern for the week- Mandala design
In this series ,every week,I share  a new design. In the last post shared an embroidery design pattern. In this post sharing a mandala design. This design was given by my embroidery teacher. I have preserved it.  This can be used for painting, embroidery and screen printing.
Here is the design:
I want to use it to paint on a saree. Tried it on a cloth. If the cloth is very thin, the carbon paper is not required to transfer the design. The fabric can be put on the design and traced.
Here is my try. Not perfect, but can be improved.
Mandala designs look nice on sarees, as motifs. The one below, I had used on a saree and printed using screen printing technique.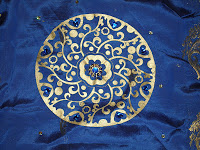 Hope this design will be useful to you. If you design something using this pattern, please share.
Planning to work with screen printing. Will share in the coming posts.
-Until then,
Love,laugh and live the life to the fullest,
-Ranjana