Work in Progress – Dress design
I had shared about two beautiful cloths received from embroidery4u, in the previous post about work in  progress . Embroidery4u is an online portal, which has very unique and wide variety of embroidered fabrics. These fabrics cater to satisfy most of the  fashion and crafts needs. There are many product categories, like, 3D applique work, which has applique work all over, fabrics which has all over embroidery , fabrics with embroidery only on border, very elegant guipure  and many more. Not only the fabrics, it has laces also. We can choose depending on fabric type too.  What else needed to experiment and show the creativity!!?
I had received two fabric from embroidery4u.  I was awestruck by the elegance and quality of the fabrics. Many ideas ran in my creative mind. I thought of making a saree with the fabric.  But to use as border for a saree the fabrics were more. I didn't want to waste the cloth. So I decided to make it a kurta and palazzo.
Kurta and Palazzo I stitched:
The fabric quality and texture of the embroidery, have made the simple design, look nothing less to a branded designer wear. Here is the closer look of the embroidery: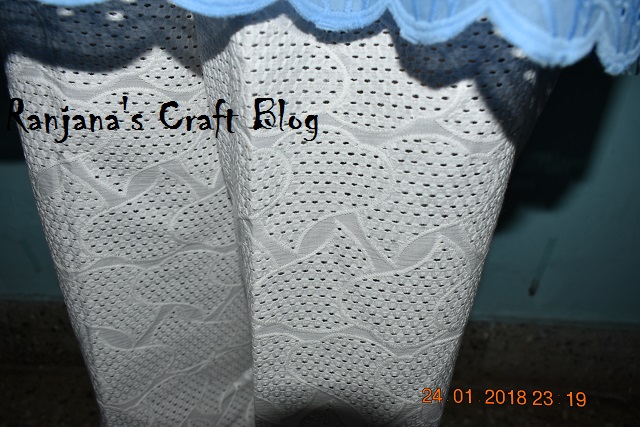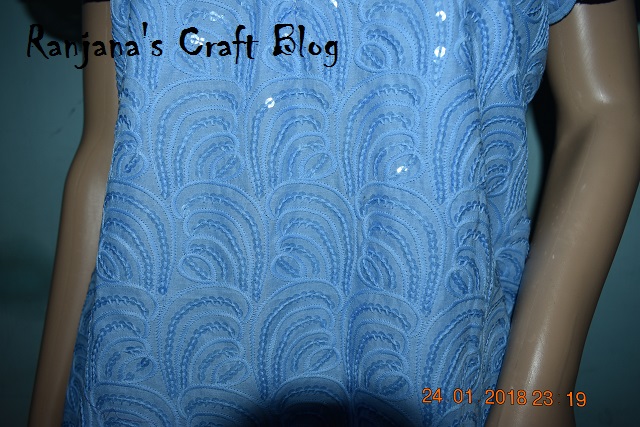 While cutting the pattern and stitching , there were no glitches, due to its quality. I was enjoyed stitching this dress , as it was turning into a beautiful dress and it was exactly like what I had imagined. Sometimes, the design we imagine gets spoiled because of fabric we have chosen. But fabrics from embroidery4u will never disappoint a designer .  It has also a section where the fabric according to the design can be selected. I have some cloth left out after stitching this dress. Planning to make some bag or purse from it.
Now planning to design one more dress , with an old  silk saree and kalamkari fabric I have. This is the work in progress of this week.
-Love,laugh and live the life to the fullest,
Ranjana